ABOUT
Mira Burack is an artist living in the mountains of New Mexico on the unceded land of Pueblo peoples. She received an MFA from Cranbrook Academy of Art and BA in Studio Art and Psychology from Pepperdine University. Burack was born in Boston, Massachusetts and grew up on the coast of Maine.
Her work has been exhibited nationally and internationally at the CUE Art Foundation in New York City, the School of the Art Institute of Chicago, the New Mexico Museum of Art, 516 Arts, Muskegon Art Museum, Cranbrook Art Museum, Media Knox Gallery in Slovenia, Art Gallery of Windsor in Canada, Kunstverin Wolfsburg in Germany, among others. She has lectured, taught workshops, and was a faculty member at the College for Creative Studies. She received a Community + Public Arts Detroit grant for The Edible Hut, a community space with a living edible roof. In 2020, she was selected for the Women to Watch exhibition at the National Museum for Women in the Arts and nominated for a Joan Mitchell Foundation Painters & Sculptors grant.
Burack spends her time learning from the high desert land, making, and enjoying her family.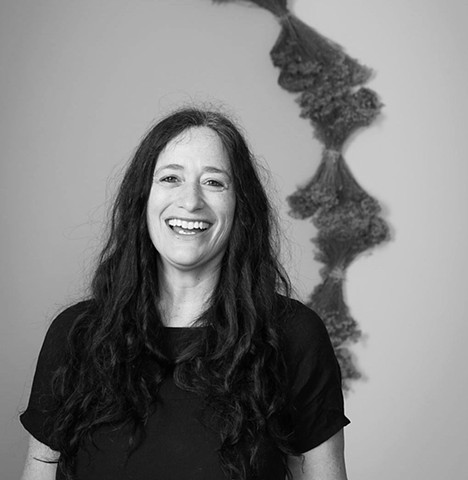 Plants, textiles, animals, family. The bed, the landscape, the table, the home.
I am engaged by the materials and living beings in my daily life, and the interior and exterior spaces around me where meaningful life experiences take place. Through my artistic practice, I explore and share the physical, psychological, and poetic qualities of these materials and spaces. I am curious about the relationships that exist between humans and their environments. What is the space between our bodies and the materials around them? How do humans experience their possessions? How do these elements of daily life teach intimacy, engage the senses, provide comfort, heal, invite rest, and elicit pleasure?
Many of my projects explore the site of the bed and the legacy of sleep. I look at experiences of sleep to reveal hidden layers of materiality and consciousness. The liminal resting body acts as a portal or mirror into an intermediary state; this is a fluid place, characterized by the innate sensual movement of cloth. The bed is a rich, contemplative site to consider materials, relationships, and our experience of rest in a swiftly-paced 21st-century.
In creating installations, sculptures, rituals, and collages, I draw connections between the material and the immaterial, the horizontal and the vertical, the visceral and the technological, two dimensions and three dimensions, and ultimately, the conscious and unconscious.