ABOUT
Mira Burack is an artist, mother and educator living gently in an earthship on the unceded land of Pueblo peoples in the high desert mountains of New Mexico. She is engaged by the materials and beings in her daily life – plants, textiles, animals and family – and the interior and exterior spaces around her where meaningful life experiences take place - the bed, land, table and home.
Burack was born in Boston, Massachusetts and grew up on the coast of Maine. She received an MFA from Cranbrook Academy of Art and BA in Studio Art and Psychology from Pepperdine University. Her work has been exhibited nationally and internationally, and most recently at the National Museum for Women in the Arts in Washington, D.C., Bridge Projects in Los Angeles, form & concept gallery and the Center for Contemporary Art in Santa Fe and 516 ARTS in Albuquerque. She received a Community + Public Arts Detroit grant for the Edible Hut, and has been nominated for a Joan Mitchell Foundation Painters & Sculptors grant and the Anonymous Was a Woman Award. She recently received SITE Santa Fe's SPREAD 7.0 micro-grant, Hazon's Shmita Prize and the Fulcrum Fund for her Sleeping Huts long-term project.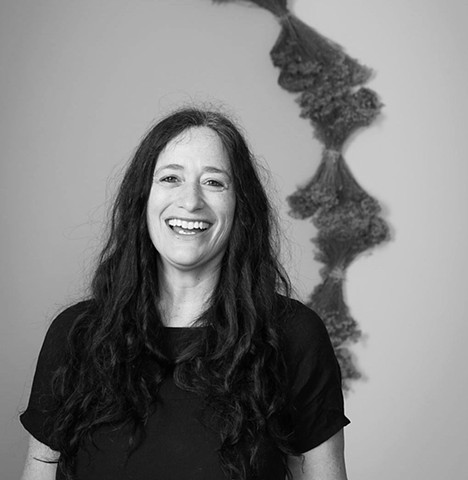 Plants, textiles, animals, family. The bed, the landscape, the table, the home.



I explore relationships that exist between humans, their possessions, and their environments. I am engaged by the materials and living beings in my daily life, and the interior and exterior spaces around me where meaningful experiences take place. How do the elements of daily life teach intimacy, engage the senses, provide comfort, heal, invite rest, and elicit pleasure?
Many of my projects explore the site of the bed and the legacy of sleep. The liminal resting body acts as a portal into an intermediary, horizontal state; this is a fluid place, characterized by the innate sensual movement of cloth. The bed is a rich, contemplative site to consider materials, relationships, and the experience of rest in a swiftly-paced 21st century.
Through photography, textiles, installation, and communal experiences, I share the physical, psychological, and poetic qualities of matter and space. Projects often incorporate hundreds of collaged photographs, painted surfaces, soft and found objects, and communal gatherings that conjure a felt, lived experience. My work straddles 2D and 3D, a space between woven textiles, the illusionary qualities of painting, a soft sculptural sensibility, and the values of land art.
I am honored to be part of a generation of artists exploring self-care, domestic life, and our environment. During this technology-saturated era, and a vulnerable pandemic and social climate, I hope that my work creates memorable ways to re-attune to empathetic, intuitive, and sensual ways of being that embody connection to each other and our surroundings.